Installations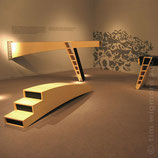 Engage was a CNZ funded project to explore new materials and develop some new works for exhibition...more
Materials: Formaldehyde Free Bamboo Panel, Recycled Rubber, Aluminium.
Installation Locations: The Dowse Art Museum 2004, Objectspace 2004 , NZ Fashion Week 2004
Current Location: Collection of The Dowse Art Museum, and various Private Collections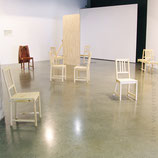 For a number of years I have been inspired and I have appreciated the work of New York designers Allan and Ellen Wexler...more
Materials: Ikea Stefan chair, Pine, varioius additional found materials.
Installation Location: St. Paul St Gallery, Auckland 2008.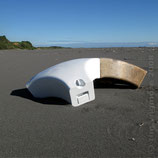 The Push Bench Prototype is the result of a Creative New Zealand funded project exploring interaction in the museum space combined with an investigation into unfamiliar materials...more
Materials: Harakeke Fiber, Resin Binder, Stainless Steel.
Dimesnsions: H: 350mm, W: 850mm
Prototype