Artist Profile - Brian Flintoff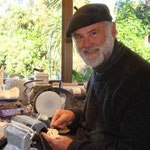 Born in 1943 Brian Flintoff began bone carving as a hobby in 1976. Working in isolation from other carvers for several years he developed techniques which have uniquely influenced his work.
After becoming interested in making traditional Maori instruments Brian met musician Richard Nuns and later Hirini Melbourne and the three began working on a revival of these treasures. Brian has now been focusing on the art of taonga puoro (Maori musical instruments) for more than 20 years and is widely regarded as one of Aotearoa's pre-eminent makers and an expert in Maori musical instruments. Both his carvings and his instruments can be found in collections and museums worldwide.
Brian and his wife Julia live in Nelson and where he works from the Tidal Access Studio.
Brian's use of Matai timber for many of his larger instruments follows a long tradition in instrument making.  Matai's straight grain gives a resonance which improves with playing and the wood absorbs oils in a special way which further enhance the acoustic properties.
On receiving the Koauau that Brian crafted for the Matai cabinet, I was speechless, it was so beautiful. Although daunting to create a fitting receptacle for this taonga [treasure] it has been a pleasure to work with such a beautiful piece and with such a down to earth and warm creative force like Brian.
Link to Brian Flintoff's website