Artist Profile - Lyonel Grant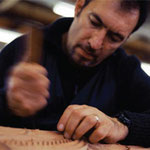 Lyonel Grant was born in Rotorua and was brought up in a close-knit Maori community at Taheke.  He knew from an early age that he wanted to be a carver and because of this chose 'to keep closer to things that were influential in his upbringing - things such as Te reo [Maori language], associated tikanga [customs] and the marae that were numerous in his community.
Trained as a classical carver Lyonel is recognised as one of New Zealand's preeminent sculptors who's work spans between the traditions of traditional whakairo rakau [maori wood carving], and cutting edge contemporary of art production. Not only has he completed several prominient marae [meeting houses] throught New Zealand, but his work is sought after for collections throughout New Zealand and internationally.
Lyonel's tribal affiliations include Ngati Rangitihi, Ngati Pikiao, Ngati Whakaue and Ngati Rangiwewehi of Te Arawa.  
When searching for a top New Zealand wood carver working in a contemporary mode but with a history of traditional carving, it seems that all roads pointed to Lyonel Grant, and I'm very glad they did as he is an exceptional artist. I'm stoked that he agreed to work on the wooden mallet with me.   His laser etched mallet surprised me and I am massively impressed with the depth and nature of his work and his contribution to the project.