Prototypes: Push Bench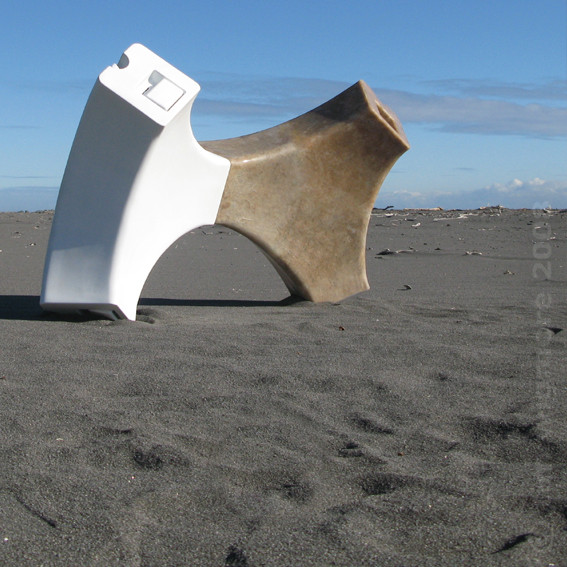 PUSH PROJECT

The Push Bench Prototype is the result of a Creative New Zealand funded project exploring interaction in the museum space combined with an exploration of unfamiliar materials. 
The Push Project was conceived as an exhibition based around a simple object that can be linked in various ways to construct larger more complex forms.  The concept is that the objects will be modified by visitors to the exhibition through: directly building onto the works, drawing/painting on the works, scratching and cutting into the works or presenting ideas to alter the basic form of the bench as it is fabricated.
The Push Project Exhibition is designed to encourage interaction and collaboration between people, to develop and encourage creativity and to showcase the talent and craft of the wider community.   For more information on the Push Project Exhibition follow this link.
Made from harakeke (flax) fibre in a resin matrix, the Push Prototype Bench was designed to be fabricated using an innovative low-tech low impact rotational casting process with New Zealand company Design For Life.  Their interesting process and the material we explored easily allows one off surface patterns and textures to be cast directly into the piece.  The finished material can be cut and sawn much like timber. 
Based on design visionary Buckminster Fuller's 'Fly Eye Dome' designed in the late 1970's, the Push benches link together to form a dome, but in the Push design an innovative jointing mechanism allows the parts to be flipped to form a large number of different configurations for seating, screening or simply just playing with the shapes to make interesting forms.  
After finishing the project I was pointed to Marc Newson's Bucky and Bucky II which I  recall seeing as a student in the mid 90's.  Newson's Bucky project from 1995 and Bucky II from '97 undoubtedly subconsciously inspired and informed the Push Project. 
Obviously I was disappointed to find that the form I had chosen for the Push Project was not a new concept in furniture design and that I had ended up with a very similar shape to Marc Newsons '97 design.  I think the redeeming features and innovation of this project are chiefly the concept behind the project - the modification and development of the objects/exhibition by gallery visitors and participants.   Also the material and fabrication process was a very interesting process and a massive learning curve for me.  Possibly the most applicable innovation from the Newson project of '97 is the hermaphroditic jointing mechanism I developed which allows the benches to be joined end to end, flipped 180 degrees and locked tightly together in either configuration.
Materials: Harakeke Fiber, Resin Binder, Stainless Steel.
Dimensions: H: 350mm, W: 850mm
Prototype
Teaser for a short video on the Push Project.