Artist Profile - Chris Weaver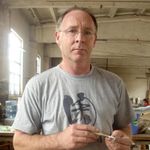 Chris Weaver was born in Te Awamutu in the North Island of New Zealand and grew up in the South Island. His first memory of clay is as a young boy, finding some when his father was digging out steps in a bank down at the bottom of their property in Nelson. He made his first pots then and has been obsessed by clay ever since.

Chris Weaver has earned a reputation as one of New Zealand's most accomplished ceramic tableware artists. His signature rimu timber handled 'Iron' tea pot has become an icon of New Zealand design and Chris's work is represented in private collections and museums throughout New Zealand, as well as in Australia, China and Japan.
He works from his studio in Kaniere, east of Hokitika where he lives with his wife Jan, and until recently, daughters Kate and Georgia who have now left home.
Not only have I been a fan of Chris Weaver's ever evolving ceramic tableware since becoming aware of it at design school a million years ago, but Chris's beautiful sculptural clay working tools made from driftwood were part of the inspiration for the Precious Cargo project so I was honored to have Chris contributing to the project.