Artist Profile - Graeme Priddle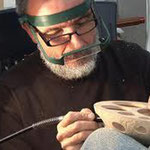 Graeme Priddle was born in Lower Hutt, New Zealand in 1960. He moved to Northland in 1986 and started woodturning in 1990.
Graeme is best known for his sculptural turnings/carvings reflecting his life and environments in Northland. He has won numerous awards for his work, which has been exhibited widely in New Zealand, UK, Japan, Taiwan, France, Germany, U.S.A and Canada.
He is very active in the wood turning world and commits his time and talent to many creative endeavours including serving on the committee of the New Zealand National Association of Woodturners and being instrumental in establishing the New Zealand 'CollaboratioNZ' Conferences.
Graeme now lives and works on a 100 acre bush block 30km North-East of Whangarei.
When first contacting Graeme I got an almost instantaneous reply "You already hit some key words that really make me want to be part of your project…I'm a collaboration junkie… and then you mentioned Puriri, a fabulous tree which I love to work with". Graeme's enthusiasm for the project and deep knowledge of woodworking have made collaborating with him a total pleasure and honour.