Projects: HotHouse Exhibition Design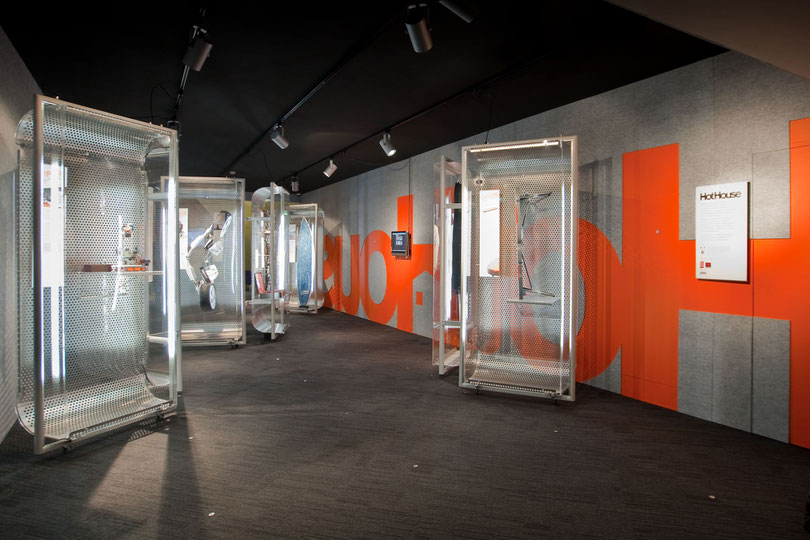 HotHouse Season 1
HotHouse Season 2 & 3
HotHouse Description:
The HotHouse exhibition at the TheNewDowse was a fiery showcase of New Zealand's hottest entrepreneurial ideas.

'HotHouse represents an inspired approach to develop, in young and old, a heightened appreciation of our immense creative capabilities and the extraordinary contribution we can all make.'
Mark Pennington, Patron and Foundation Sponsor (Design Director, Formway)

The design brief called for a system that would allow easy changeover of the objects for each season, as well as being able to reconfigure the space to keep it exciting and new for museum visitors. I was excited to work with the in-house team at the Dowse to develop the exhibition design and as well as working with the production and design team at Frazer Engineering to develop the aluminium fabrication and objet mounting system.  We incorporated raw materials that could be recycled (aluminium and PET plastic) to develop the 10 mobile aluminium cabinets. The cabinets could be put together in various ways to enhance each object's story, create relationships between the works, and direct people through the space.  Designed as an ongoing exhibition, the show lasted only 3 seasons due to a restructure and new program direction for museum.
Curator: Leanne Wickham
Project Manager: James Moir
Lead Designer: Tim Wigmore
Location: TheNewDowse, Lower Hutt, New Zealand.  July 2009 - ongoing.