Analog Acoustic Screen 2015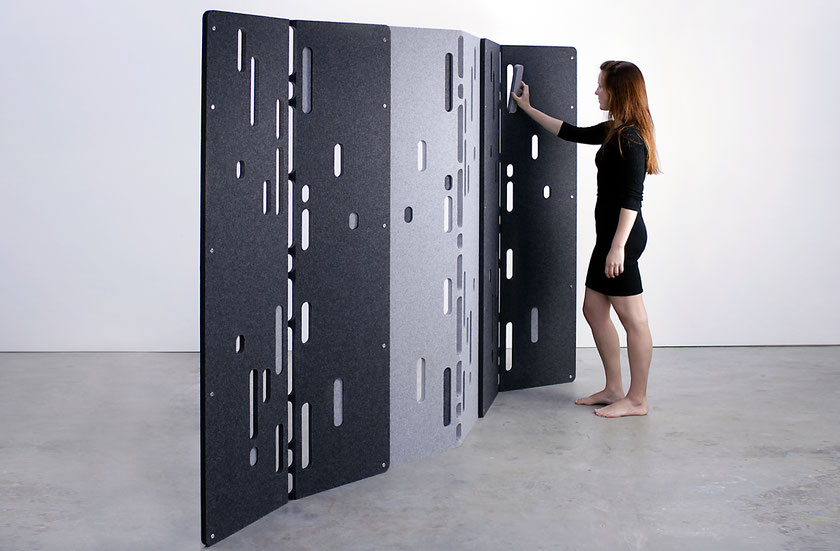 Analog Acoustic Screen for Designtree
Design Team: Rebecca Asquith, Maud Timmermans and Tim Wigmore for Designtree
Date designed: 2015
The Analog Acoustic Screen utilises the properties of thick recycled PET felt panels, creating a functional, contemporary room divider with excellent acoustic absorbency.  The simple modular nature of the screen allows the user to define space through both visual screening and the reduction of ambient noise. 
The screen consists of a series of 900mm panels, each with a central hinge.  When joined together the panels form a screen or room divider that with additional panels can be extended indefinitely. 
Off-cuts from the production process of the screen are included with the screen.  These can be used by the customer to fill in the cutouts if and where desired.  This allows the end-user not only aesthetic customisation of the screen, but also the ability to manipulate its porosity for visual and acoustic privacy.
This modular screen system is designed for commercial applications where privacy and acoustics are important.
Dimensions: Each panel - 1800mmH x 900mmW (Each panel overlaps 60mm) Add more panels to get desired length.     
Materials: Recycled PET panel, barrel nuts.
Colours: Grey or Charcoal panels.